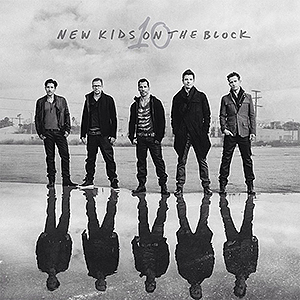 Laut der Promotion Agentur "Revolver Promotion" erscheint das neue Album der New Kids on the Block in Deutschland am 5. April 2013.
Das Album trägt den Namen "10" und beinhaltet 13 Titel, inklusive der aktuellen Single "Remix (I Like The)". Diese kann man sich bereits über Amazon.de und iTunes herunterladen.
Das zur Single gehörende, am Freitag veröffentlichte, Lyric-Video befindet sich mit bis dato über 215.000 Views, mittlerweile den vierten Tag in Folge auf Platz 1 der "Top 100 Musik Clips" der deutschen Videoplattform MyVideo.de. New Kids on the Block riefen ihre Fans letzten Monat dazu auf, Bilder einzusenden, die Veränderungen in deren Leben deutlich machen. Diese Bilder wurden für das Lyric-Video verwendet. Produziert wurde das ganze von John Logsdon und Patrick Dwyer (Blind Vision Films).
[ NEW KIDS ON THE BLOCK ]
Offizielle Website: www.nkotb.com
Facebook: Facebook.com/NKOTB
Twitter: @NKOTB
Album: 10
VÖ: 05.04.2013

Über 80 Millionen verkaufte Tonträger, weltweit ausverkaufte Tourneen, etliche Platin-Auszeichnungen, jährliche – bis heute ungebrochene – Rekord-Umsätze im Merchandise in Höhe von bis zu einer Millarde Dollar: NEW KIDS ON THE BLOCK haben als eine der erfolgreichsten Boybands der Welt die Pop-Welt nachhaltig verändert. Und dass sie nun ihr zehntes Album veröffentlichen, lässt sich die 1984 gegründete Band trotz Trennung von 1994 bis 2008 ganz und gar nicht anmerken.

Die erste Single "Remix (I Like The)" aus dem am 05.04.2013 erscheinenden Album "10″ ist ganz im Stil der NEW KIDS ON THE BLOCK: eingängig, tanzbar, catchy – und verbirgt mindestens so viel Ohrwurmcharakter wie die größten Hits der Band "Step By Step", "You Got It (The Right Stuff)" oder "Cover Girl". Bereits 2010 waren NKOTB mit den Backstreet Boys als "NKOTBSB" auf erfolgreicher Tournee, und um nun ein weiteres mal die Herzen der Fans zum Stillstand zu bringen, touren die NEW KIDS ON THE BLOCK auch noch mit BOYZ II MEN und 98 DEGREES vom 31.05.2013 – 13.07.2013 durch die USA: "Ladies, we're coming for you," so NKOTB Mitglied Donnie Wahlberg. "This is going to be the craziest year yet-the single, the album, the tour with 98 Degrees and Boyz II Men … We can't wait to give fans 'The Package!'" Da werden die Sanitäter vorort wieder pausenlos zu tun haben…
Das Lyric-Video zur aktuellen Single "Remix (I Like The)"!