Source: [ CHUMFM.com ]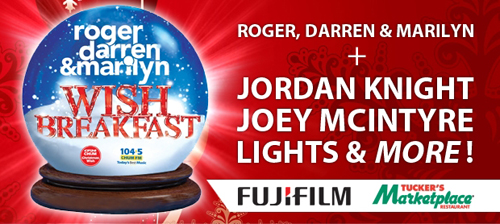 5:30 – 9:00am, Friday, December 16 – Masonic Temple
Join us at the Roger, Darren & Marilyn Wish Breakfast
Brought to you by the FUJI XP camera – the shockproof, waterproof, foolproof holiday gift this season.
Our continental breakfast will be catered by Tucker's Marketplace Buffet – Where family and friends come together!
Featuring Jordan Knight, Joey McIntyre, Juno Award winning "Lights" and "Sex & The City" star Mario Cantone
It's our annual Christmas party – all in support of the CP24/CHUM Christmas Wish
Tickets are only $10 each and are on sale as of Monday, November 28 @ 8 am at www.ticketweb.ca.
Please bring a new, unwrapped toy or cash donation. All money raised goes directly to the CP24/CHUM Christmas WISH.
New Kids On The Block stars Jordan Knight and Joey McIntyre will perform live, as so will Lights.
All guests receive a complimentary CP24 CHUM Christmas WISH snowglobe, sweets from our friends at Allan's Candy,. We will also give away Fuji XP digital cameras throughout the morning!
Join us for the Roger, Darren & Marilyn Wish Breakfast for the CP24/CHUM Christmas Wish!