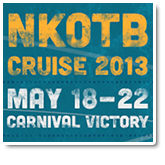 The New Kids on the Block recently announced their next year's cruise.
The cruise will take the fans from the Port of Miami to Half Moon Cay
and after that there'll be another stop in Nassau this time.
[ NKOTB.com NEWS BLOG ]
sound the horns again…
NKOTB CRUISE 2013! MAY 18-22 ON CARNIVAL VICTORY!
NKOTB celebrates 5 years on the high seas on the CARNIVAL VICTORY!
We depart May 18, 2013 from the Port of Miami, returning to your favorite beach paradise HALF MOON CAY, then on to the clear blue waters of NASSAU, BAHAMAS, and finally cruising home on May 22, 2013. | Continue reading on NKOTB.com.
A few details can be found below.
[ DATE ] May 18 – 22, 2013
[ CRUISE SHIP ] Carnival Victory – Cruise Ship Info
[ ITINERARY DETAILS ]
05/18 – Miami, FL
05/19 – Half Moon Cay, Bahamas
05/20 – Nassau, Bahamas
05/21 – Fun Day @ Sea
05/22 – Miami, FL
[ PRE-SALE INFO ]
Booking Link: ComcastTix.com
There will be a Block Nation presale on Thursday September 13th, 2012 at 12:00 PM EST on ComcastTix.
Fan Club members will receive an email with more details.
Special Advance Pre Sale for All past passengers of the NKOTB Cruise 2009, 2010, 2011 or 2012 begins on
Thursday September 13th at 1:00PM EST. Only reservations for past guests will be accepted during the pre sale.
The General On-Sale will be Friday September 14, 2012 at 12:00PM EST,
no booking code will be necessary to make a reservation.
[ THE CRUISE INCLUDES ]
4 Nights Accommodations onboard Carnival Victory
All Meals & Snacks
Coffee, Tea, Iced Tea & Juices
24-Hour Room Service & Pizzeria
Gratuities for the dining & cabin staff
Full Use of Ship Facilities: Three Pools, Whirlpools, Fitness Center, Salon, Spa, Casino, Duty-Free Shopping & all Carnival Events
Full Access to all of Carnival's activities and facilities!
VIP Concierge at your service
Everything you loved about NKOTB Cruise 2012 and More!
The NKOTB Cruise 2013 will be 16 and older. No one under the age of 16 will be permitted. If anyone books a child under the age of 16, their reservation will be cancelled and their money will be refunded. The remaining passengers in the cabin will be subject to the higher rate.
For more information please visit NKOTB.com/cruise and nkotbcruise.rosetours.com.
(All information is subject to change.)